Went to Marina Bay Sands with my mum the other day to attend this jewellery thing at Mondial. We stayed there for about 15 minutes, had some champagne and my mum turns to me and says, "Tish, we have to get out of here now. Otherwise I'm going to buy everything in here! ... And that's not a good thing" My mum is the ultimate sucker for jewellery.
We headed up to Ku Dé Ta on the 57th floor of the hotel and continued our night there. Kept it casual with the outfit but jazzed it up a bit with some accessories. I was dying to wear a dress I got recently, but it seemed a little too formal, will have to debut it some time! Instead, I debuted my new rose gold Brian Atwood Maniacs! So in love with this pump: the shape, colour and height.
As I mentioned in an earlier post, I need to get the guts to eventually start photographing outside and in daylight. Got inspired by Lanvin's Resort 2012 collection in a stairwell and thought it a good place to start. Not too many people take the stairs, so I don't exactly have to face public scrutiny while taking pictures of myself! Kinda like the gritty feeling of cement too.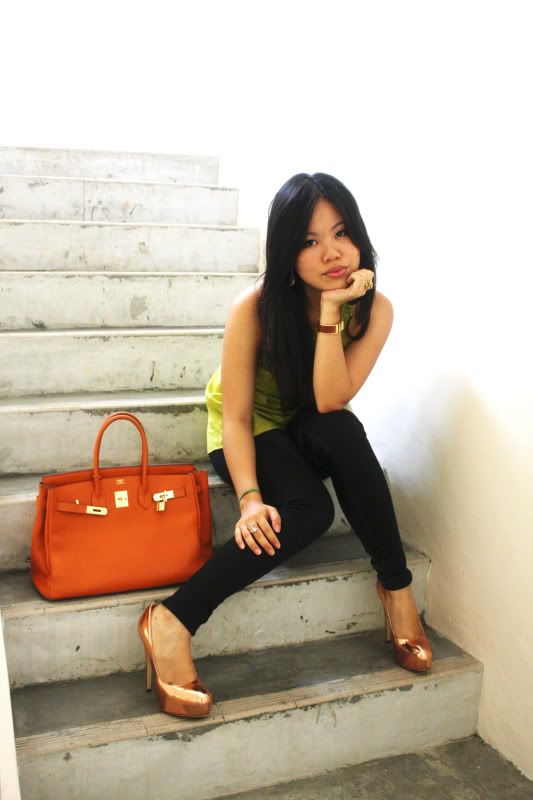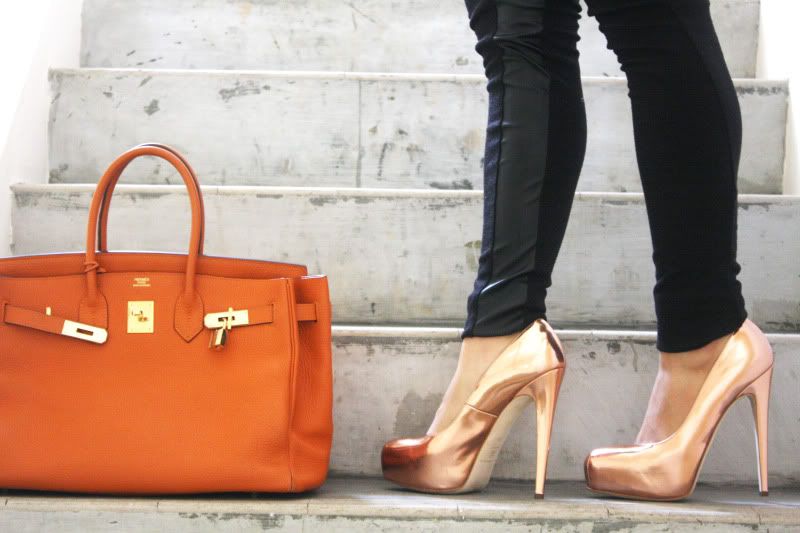 These Brian Atwood babies were the brainchild of a collaboration between Atwood and Victoria Beckham. She loved the rose gold Rolex watch David Beckham got her so with her obsession for ultra high heels and Atwood's Maniacs, the rose gold colour took form. If I'm not mistaken, they were seen on her runway collection not too long ago.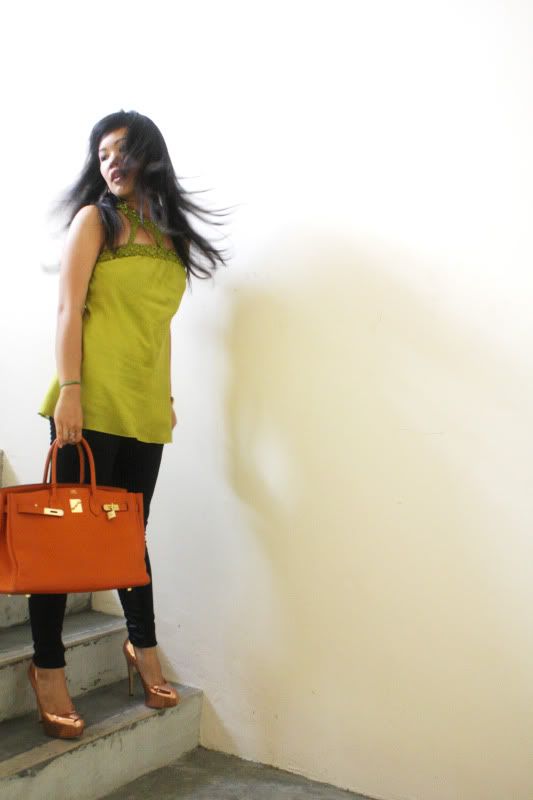 Maxstudio.com green silk blouse, Zara black leather-panelled leggings, Brian Atwood rose gold Maniac, Hermès Birkin bag, various rose gold accessories.
I don't know if you can really define this as colour blocking but it definitely is colour combining? Took out one of my favourite tops from Maxstudio.com since I haven't worn it in a while. I love the unique details at the top and the back because it's a mixture of chiffon that's "embroidered" (I don't think I can really call it embroidery because it's textured and floaty) and pearl beads covered in the same green chiffon. This is also the first time in about 3 months (with the exception of my time in Europe) that I've worn trousers/leggings. Singapore is so hot! I'm sure anyone anywhere will agree with me on how hot this summer has been.
Hope everyone's having a fantastic week, it's almost the weekend!