Just wanted to do a really quick outfit post to show you the bargain of a shirt I got from the Zara sale the other week! I'm very wary of leopard prints just because I feel a lot of them look a bit tacky, especially when worn incorrectly. Also, I'm not that big a fan of leopard prints (unless done correctly like Dolce&Gabbana) to begin with. As a solution, I went and bought a shirt that technically has leopard prints on it but it's in blue! So you can't really tell they're leopard unless you really look for it.
Here's my little weekend outfit while lounging on my balcony deck - of course, sipping some cocktails! Except for the fact that the pictures aren't actually on my balcony... awkward! Anyway, snapped some quick shots after I came home from watching Transformers 3! Singapore has been so hot lately that I can't even fathom to think of wearing anything remotely related to pants.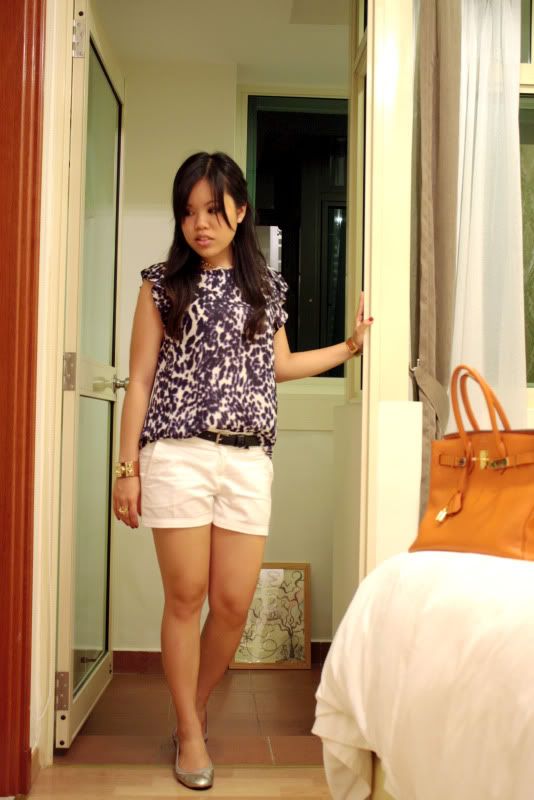 Tried carrying the bag and it was so awkward, so I just got rid of it and put it on my bed.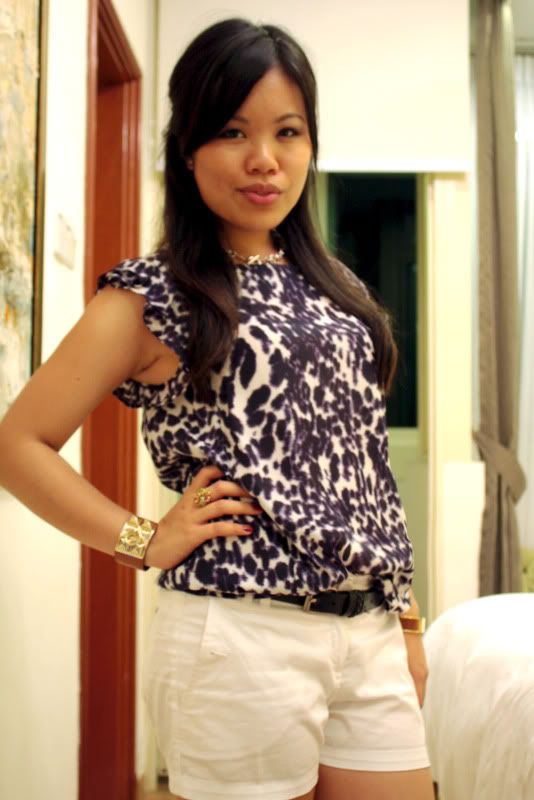 So can you tell it's leopard print? I think the white and blue makes it much more subdued to wear rather than traditional leopard print that I find a little daunting to incorporate into my wardrobe.
My mother will
not
(
for the life of me
) get me a Hermès collier de chien bracelet! While seeing how cool it really is to "wear" one, I got myself a little Hermès-inspired CDC in the hopes of convincing her how good it looks haha! Tactics, dear friends, tactics! Yet, she allows me to get their watch (wearing it) and their bag (above)!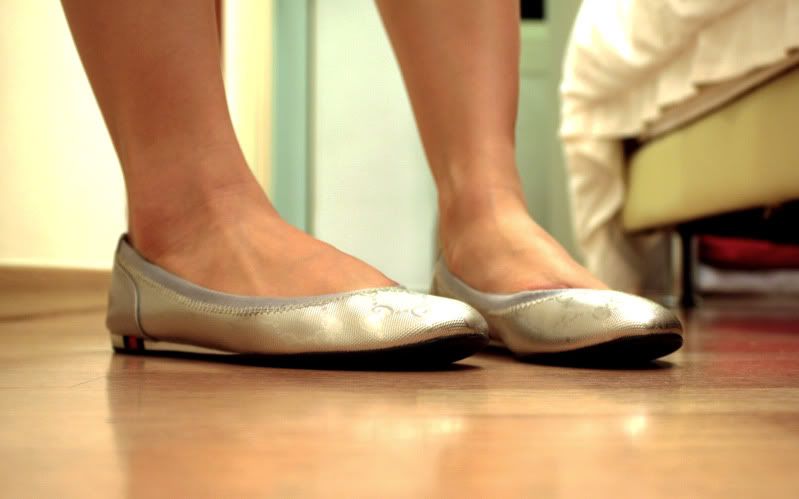 I know some girls really love their heels and I don't blame them because it makes your gams look like they belong to Rosie Huntington-Whiteley (
look at my Transformers reference!
) but, heels aren't healthy for your feet if you wear it for too long and too often.
In cases like this, I definitely turn to my trusty flats. I got these while I was travelling in Europe for such a bargain! Aside from Tory Burch and Lanvin, I don't often find ballet flats that look good on my flat feet so these Gucci ones were a must-have the minute I tried them on :)
A major plus point is that they're not those super tacky Gucci flats that you can see from a mile away with their brown logos... it's silver (easy to match) and understated (big advantage!).
Zara shirt, Mango shorts, Gucci flats, Hermès bag
I've promised myself to shoot some outfit posts in the coming days in broad daylight! So stay tuned and have a great weekend.
I definitely am (or at least bittersweet) because I'm going to see Harry Potter Pt 2 today and my childhood is officially going to be over!