The other day, there was a tribute for Michael Jackson at Zirca. Dubbed the "Black and White Party" it was sort of obvious what the prevailing theme for the night would be: come dressed in full black or full white (and you get two free drinks). It was ladies night nonetheless...
Taking up this occasion, I decided to go for a full black ensemble mostly inspired by Michael's sister, Janet and her penchant for wearing 'suits' to red carpet events. It didn't hurt that a lot of Fall 2009 runway trends also teetered on androgyny; embracing the masculinity of a suit dedicated for women. Thanks to YSL who made Le Smoking suit so fashionable, sparking the trend for the liberation of women no less.
All taking inspiration from men's tuxedo, it has been altered to fit a woman's body. I opted to find suits which show off a little here and there which deviates slightly from the traditional black and whites by sticking to one colour.
1. Yves Saint Laurent is famed for their suits, after all they are the original creators of Le Smoking. Tapered pants is a fashion trend here to stay after seeing it on the runway for at least two seasons. The use of the leather juxtaposed to these tailored pants create a slick yet feminine approach to the usual pantsuit.
2. Doo.Ri combines the jacket with sheer arms to create a feminine, ethereal yet still defined silhouette. I need to get me one of those!
3. A little something the Sartorialist captured during Paris' fashion week. It's easy and cool and has such understated elegance and nonchalance. Love the leather cut-offs (all the rage this season too)
4. A little Janet Jackson that I tried to emulate (minus the big hair)
On Clarice: MaxMara black blazer, Banana Republic black wide leg pants, Miu Miu heels, Lauren Merkin clutch, Marciano embellished brassiere, Mango headband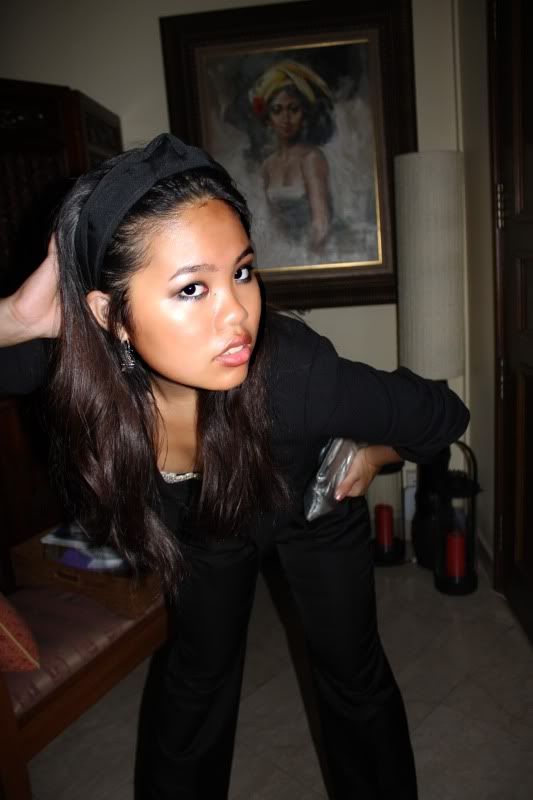 So yes, I was being a little 'skimpy' with the no-shirt-under-blazer but I was well covered up thank you very much.
The wide pant always gives you a slimmer and taller appearance while one cannot go wrong with a basic colour like black. As mentioned before, this is a fitted blazer cut on the hips with a cinched waist which defines, shapes and works great with more petite figures.
I find with a more androgynous outfit like this - minimal accessories work better because over-doing it rids of the whole image you're trying to portray. So if you are a person who tends to pile on the accessories - remember to take the last item you put on, OFF!