Valentino
has become a name synonymous with the signature 'Valentino Red', flowing gowns, feminine silhouettes and Oscar Red Carpet worthy looks. When
Valentino Garavani
, the label's original designer stepped down from the pedestal in January 2008; it has since had to regain its footing to maintain the splendour that Valentino left with his name.
Taking the helms this time round are Valentino's former accessory designers,
Maria Grazia Chiuri
and
Pier Paolo Piccioli
after
Alessandra Fachinetti
's unsuccessful run as Valentino's successor. Drawing from Valentino's plentiful archives, Chiuri and Piccioli managed to depict something that remotely resembled something Valentino would design: feminine, detailed, pretty and lacy. Although it might seem like they are rooted in the past following Valentino's shadow; they have also managed to break away from slight conventions by injecting a certain youthfulness in the collection.
I'm really a sucker for anything pretty and
wonderfully, frivolously
lacy; hence there's always been a natural affinity to Valentino's designs. I remember the time where I used to see my darling old grandmother break into her gorgeous red Valentino gown and how that would make me gush at the impeccable workmanship.
This season is however, not without its faults. The main focus from the two designers being a demure yet youthful combination of black, ruffly lace over nude. Lucid Couture determines some of the best and worst of Valentino's Fall Couture collection.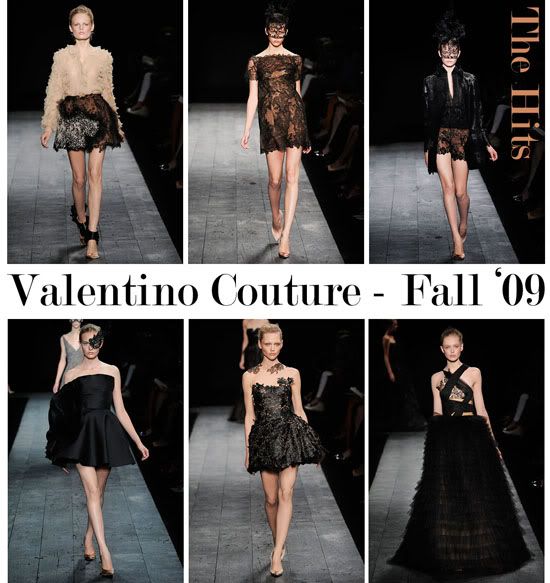 1. An intricately nude ruffled blouse is paired with a springy black lace skirt over the same nude material trimmed with more ruffles! I like how it shows the right amount of skin and how ruffles can remain chic without looking like a court jester.
2. Black lace dress over nude. What's different about this dress is its silhouette as it reminds me a little bit of an oversized t-shirt (borrowed from the boyfriend of course). Love their use of lace masks for a little trompe l'oeil effect too.
3. One of the only shorts to be showcased in this collection. Black lacy shorts paired with a black ruffled blouse and a black jacket embossed with silver flowers. It's all subtle in its own way (specially the flowers on the jacket) but combined together just makes for a darling combination.
4. The little black ruffly dress. Love the simplicity of the black dress with the minor (or not so minor) detailing of that ruffled flap on the side. Some hate it, but I think it's what makes it stand out. Imagine going to a cocktail party with this number on!
5. More of an embroidered lace cutout dress, I really like the fact that it looks like you've stuck on little lace pieces to the base of your neck when really; it's connected by a nude mesh material.
6. Of course, no Valentino collection would be complete without its fair share of gowns. One of the only gowns I thought was decent despite its atrocious wedding cake layered ruffles. I just like the asymmetry of the bodice.


1. The little dress has way too much going on. Prints here and there! Combine that with lace! Maybe some tulle and ruffles! Looks like Valentino puked on it and voilà, this contraption was created. Not really a pretty sight.
2. How are we supposed to take a good look at a dress when one can only fixate on the coat? It looks like a hybrid of a turkey tail and a squid. What would Anna Wintour say?
3. Sometimes ideas are best left to the head. The combination of the skirt and the nude blouse could POTENTIALLY be something marvelous. However, in this case it just didn't work. The front of the skirt with ruffles-a-plenty reminds me of those coral in the sea. Then there's that weird, prettified Darth Vader neck cape thing going on...
4. Little black dresses are musts. But not when it looks like you've stuck a turkey on to your back. Why the unnecessary ruffles?
5. And we are back to gowns. This one looks like a dismally overwrapped Christmas present. With bows and ruffles aplenty. Or one of those crackers you pull to get those little treats inside?
6. I don't know what to say to the last gown. Shapeless with weirdly shaped 'ruffles' to boot. Looks like an overactive transmission of radiowaves or something. I know, what must I be thinking? Years of chemistry has seeped into my mind but I just don't like what I see.
Another bizarre thing which permeated throughout the collection was the weird ruffly shoes. There comes a point when ruffles just become a little overdone and with lace, ruffles, organza and tulle aplenty I think it's due time Piccioli and Chiuri done a little once over with an editing eye. They should've stuck to the nude shoes present in most of 'The Hits' pictures.
Nevertheless, I think Valentino has gained some steady ground and we do owe it to these two designers but it'll be another couple of seasons before they finally find their niche and deliver a solid collection.
But, where did the Valentino
red
go to?