I've been meaning to blog about J.P.D for a while now but I suppose it has just slipped my mind. Amidst all the fashion photographers, street style and editorial alike; Delhomme uses his pens, coloured pencils and watercolours in order to illustrate what photographers capture.
His subjects are focused a lot on famous figures he encounters as well as prominent fashion figures of today's world. I really like how he likes to insert himself in many of his illustrations as if they were photographs. It doesn't hurt that his illustrative style is vibrant and captivating either. Personally, I really like his style! It's carefree and easy to look at.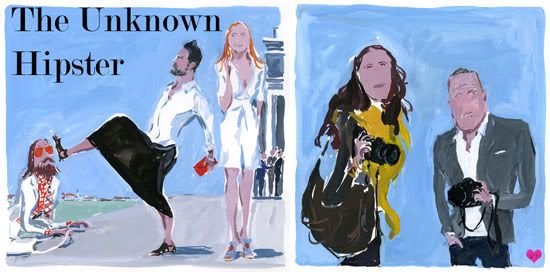 Like on the illustration on the left, he illustrates himself with Marc Jacobs and Stella McCartney. Albeit the fact that he's being kicked in the head by Marc...
Then he illustrates two of the most prominent street style photographers, Garance Doré and Scott Schuman (aka: The Sartorialist). Rumour is that they're dating!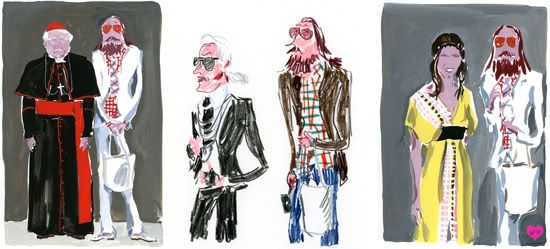 Famous figures such as the Pope, Karl Lagerfeld and Margherita Missoni are some of the people he illustrates. Love it. For more of his illustrations check out
theunknownhipster
or
Jean-Phillipe Delhomme