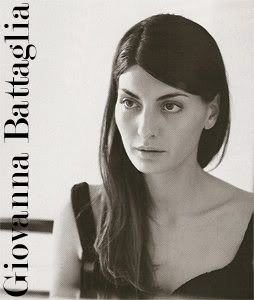 Many people oblivious to the fashion industry must wonder;
who exactly is Giovanna Battaglia
? Perhaps you've seen her face around here and there, but what exactly does she do? Giovanna is one of the '
Vogue Soldiers
' working as a fashion editor for Vogue L'Uomo (Men's Vogue). Her signature sartorial style (look at the wonderful use of alliteration!) has landed her a permanent fixture in many street style blogs including that of The Sartorialist and Garance Doré. Being a former (and exclusively) Dolce&Gabbana model as well as a stylist, she has a wardrobe many editors would envy. However, there's more to her than merely meets the eye.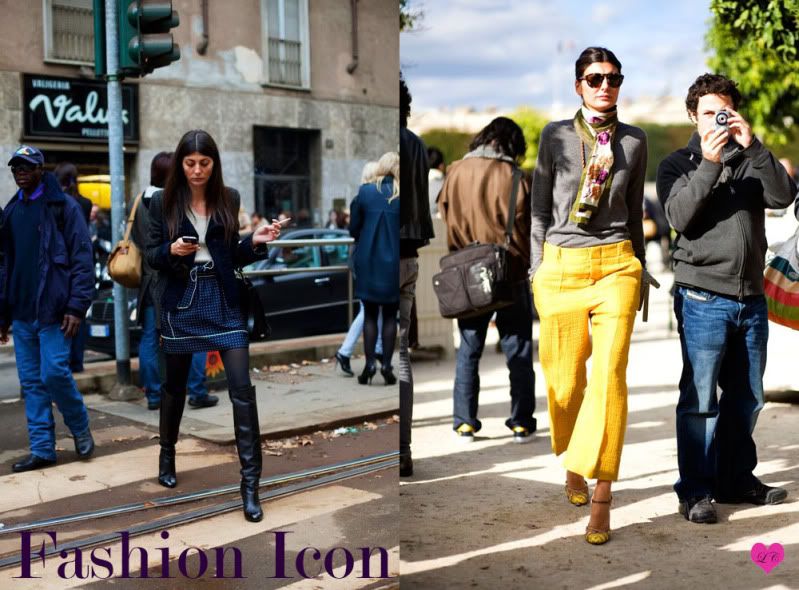 Here are some of my favorite looks that she has showcased over the years. Her easy-going and
chic
style is reflected in the way she wears her clothes, transforming looks from day to night by merely changing a jacket or some accessories. Although keeping to neutrals, she always manages to inject some colour into her wardrobe such as that displayed by those bright yellow pants.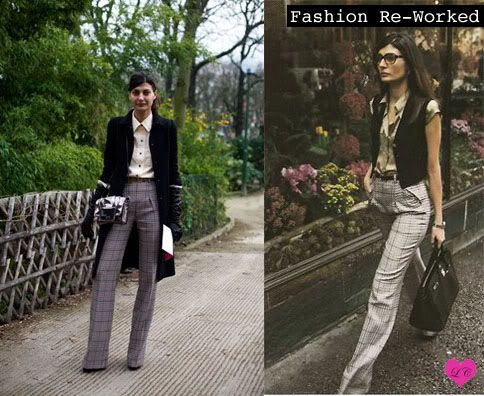 Something that makes Giovanna different from other editors and fashion insiders alike is her ability to r
e-work her clothes
. One wouldn't catch Anna Wintour or Carine Roitfeld in the same outfit twice, but for Giovanna; she definitely has her wardrobe favorites and staples. As pictured above, Giovanna is able to transform the same pair of pants into two completely different outfits with different vibes. She is often pictured with her
knee-high black boots
or
birkin bag
and
grey turtlenecks
amongst others. And she's definitely not afraid to show what she loves by re-wearing and re-working her pieces.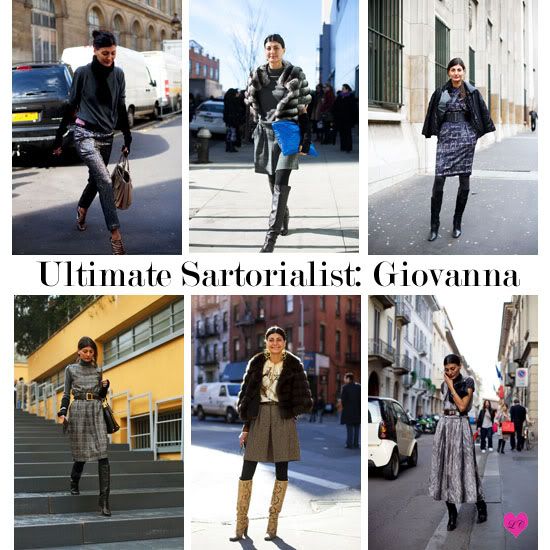 Giovanna favours labels often thought to be slightly unsexy, more tailored than anything such as Marni, Prada or Viktor and Rolf. However, she has a penchant to be able to wear them in such a manner which is far from frumpy. Always
effortlessly elegant
and
classy
she keeps people guessing as to how she's going to wear her pieces next.
She always keeps it simple and fresh, layering different key pieces together to create a seamless outfit. It also doesn't hurt that she can show off those legs in a pair of
killer heels
and
short skirts
. Her minimalist style with makeup kept to a minimum and subtle accessories are always tasteful and she always knows what works on her.
If only we could all have the same wardrobe and ability to mix and match and transform a look by putting on new shoes, jacket and some accessories. Then again, Giovanna is Giovanna just because of that.