There's a big trend that's been here all this year, cut-off and cropped pants. It surfaced sometime late last year and is here to stay as seen and updated from runways of Spring to Fall. Usually, pants reach at least to our ankles if not lower depending on the style and cut but a cropped pant stops at the ankle upwards. Some people might think that this look is extremely hard to pull off, that you have to be tall, slim and model-esque; but there are ways to make this hot trend work for you! Remember just to follow these tips...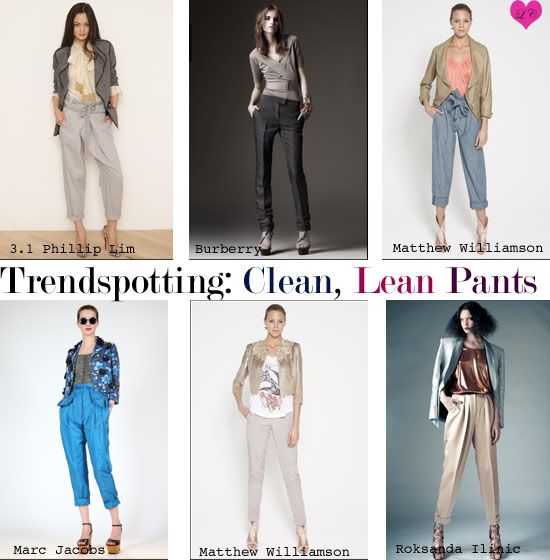 Taken from the 2010 Resort collections, all these pants have something in common -
they are all cropped
. There are various styles from something scrunched at the ankles to folded or just a clean, lean cut.
For those fortunate enough to have slim, tall, mile-long legs; you're in luck because you can basically wear any kind of pant and it'll
surely look good
. However, for those of us (like me) who are petite and of average frame; we have to look a little more carefully.
Tapered pants
(meaning they are smaller round the ankles) will
elongate
and
slim
your legs. Most of the pants here possess some tapering qualities.
Slim, cigarette pants
also look great as they
elongate
your leg too, by introducing one clean and straight line down the legs.
Remember to also keep in mind where the pant stops. Somewhere at your ankle bone or below mid-calf works wonders for petite figures. This is because if the pant is of an awkward length (like mid-calf or below the knee) it
CUTS
the leg and makes us look stumpy and bigger than we are. Ankles are an attractive feature as it's a slim part of the leg; accentuating that area will then visually draw attention to it.
From Roksanda Ilinic to Marc Jacobs, all designers have created a slick silhouette and whether they are a little baggier or slouchier still manages to be sharp and chic.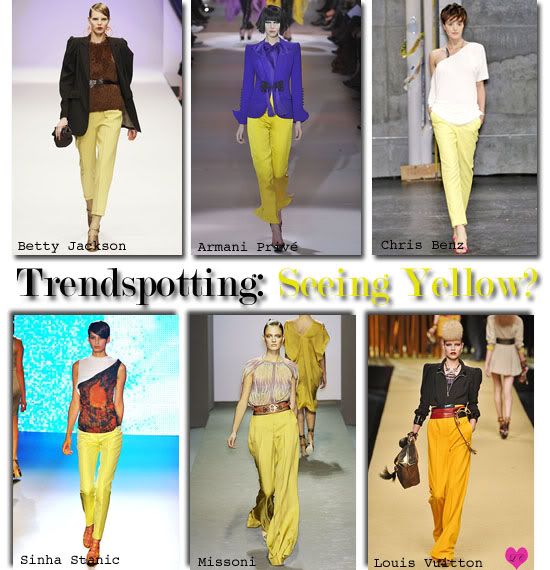 Secondly, I'd like to introduce
colour!
We all know that it might be hard to work with colour but it's simpler than one thinks. Big trends this season is eye-popping colour in bright hues and jewel tones. This time, I chose yellow as the different shades can complement almost all types of skin-tones. From muted yellows to bright, sunflower yellows; there are varying shades to suit everybody.
As depicted above, runway looks always add more drama in order to emphasise the effect designers choose to employ. But also, many of the yellow pants are also paired with more muted, neutral tones as to
not overpower
an ensemble. When translating the look to everyday wear; that's a key rule to follow. Don't overwhelm your outfit with too many colours and let the statement pants do the talking. If too many elements are added to an outfit, it'll look confused and sloppy. Or like some little child went crazy with finger paints. So pair yellows with neutrals like brown, black, beige, greys or any other muted colour for an everyday look.
However, if graphic is the way you want to go; remember to keep 'colour contrast' in mind. Opposing colour such as yellow and purple work surprisingly well together. Experiment with shades of blue as well.
But if you choose to have a light yellow as a pant, then don't be afraid to
experiment
with
bright colours
for the tops!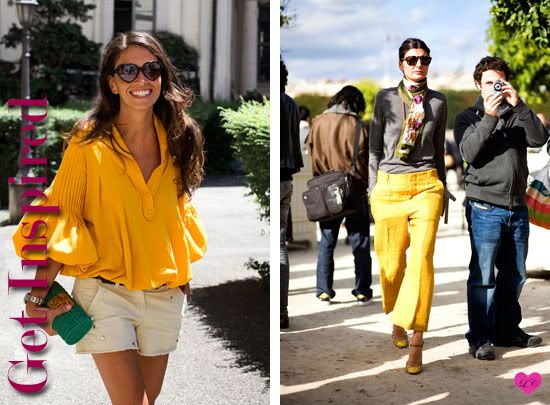 Credits: Garance Doré, The Sartorialist
For this lookbook, I got inspired by the cut and colour of Giovanna's (right) pants and her easy, effortless look. However, as a colour palette; inspiration arose from Garance Doré's street style pictures depicting the colour combination of yellow and beige. It's summer, fun and effortless. Plus it's a colour everyone's bound to have in their wardrobes.
I combined the tapered yellow pant with a beige billowy top to create a more summery look this time round.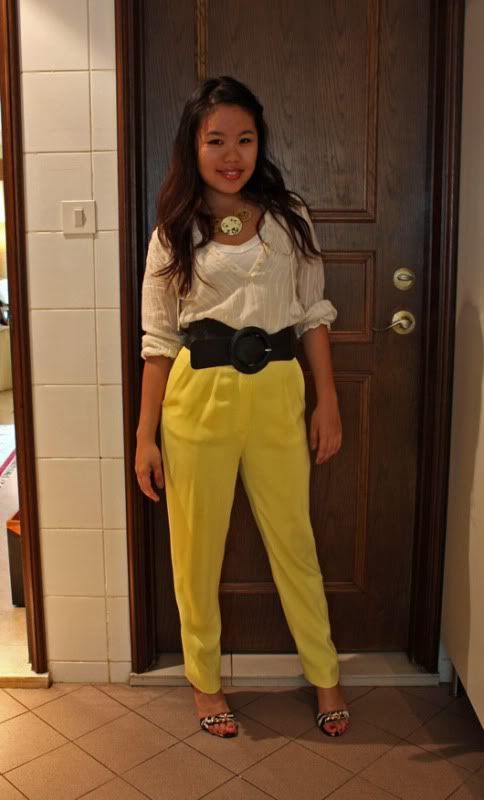 On Clarice: vintage yellow pants(mum's old pants), Esprit white tank top, Zara beige sheer shirt, Sisley belt, necklace from Far East Plaza, Guess wedge heels.
The high-waisted, tapered yellow pants help to
elongate
my legs while still ending at my ankle bone. The fact that it is slimmer at the ankles slims down the leg and the wideness of the upper part also
hides any flaws
. As the pants are somewhat more fitted, wearing a looser top helps to contrast that and balances the outfit. If everything is tight and tight, it doesn't necessarily make for a pretty sight and looks as if the life is being squeezed out of you. I brought it in the waist belt to break the colour tones and separate the sheer beige from the bright yellow. The billowy sleeves and sheer material of the top also lend it an
effortless summery vibe
.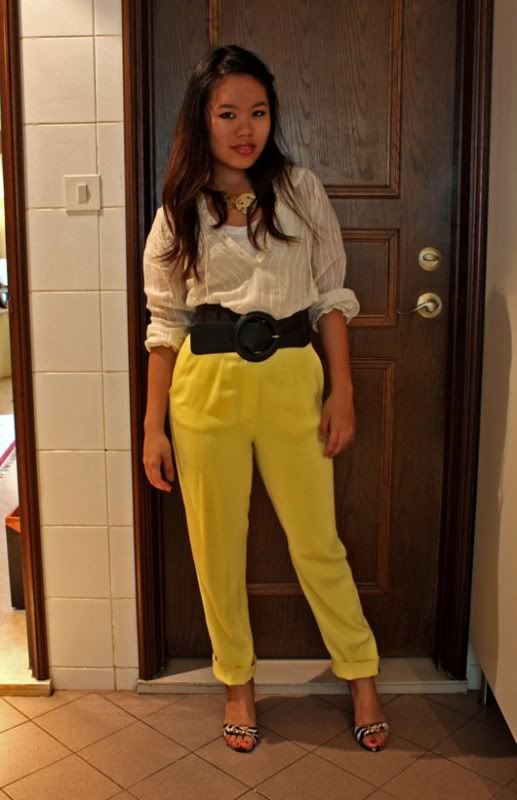 Because my pants are tapered, you could also roll up the hems. This is made possible as the fabric can help 'cling' onto the rest of the pants without unfurling. Rolled up hems are very popular in many different runways and help to lend a chic summery vibe.
I translated these looks into something a person can wear everyday while out and about. For a day to night transformation, simply add a blazer on top or change into a more glamorous top. Keep in mind, with a silhouette like this, tops should be more voluminous to maintain balance.
Cropped and coloured pants 101:
- For petite figures, remember to look for a cropped pant which stops at your ankles or slightly above it. Anything mid-calf or below the knee is a NO NO! because it makes you look stumpy
- Tapered pants are slimmer round the ankles but for cropped pants, shouldn't cling to your calves if looking for a cropped, summery feel.
- High-waists also visually elongate your legs as low-rise cropped pants could result in making you even shorter due to the restricted materials that covers your frame. High waists also help to flatter the stomach making them appear slimmer.
- If choosing a
bright
colour for your pants, remember to go easy on the top. Experiment with opposing colours however, do work but remember not to overdo with too many cluttered accessories or other different colours. If unsure of what opposite colours are, reference a
colour wheel.
Stick to one statement look.
- For those with tanned skin, muted colours work well as they accentuate your tan. When opting for bright colours, be bright and bold but don't go deep; it will make you look sallow and even darker.
- For those with fair skin, rich but bright colours will pop on you. Muted colours also work well but remember to add contrast to that by pairing it with a bright top or some accessories. If everything is too muted, you'll look dull and very very fair. Steer clear of shades that are somewhere down the middle (neither muted or bright).