Before I headed down to Indonesia for a quick getaway, I attended the BCBG MaxAzria fashion show celebrating 20 years of their brand. It promised a night of cocktails, fashion and shopping provided by BCBG and Harper's Bazaar, but alas; promises are always meant to be broken.
I know I've seen BCBG do better. There are a
billion
more things in their archives that seem to be worth something more to look at than what was presented that night. The night started out well, guests checked in at the front door of their standalone boutique in
Paragon
and were promptly whisked inside for some drinks and canapés. We were free to browse around and enjoy the light music and the specially discounted items that night.
I thought I saw some pieces that caught my eye, seemed to be a little more worthwhile. There were tailored separates that could take you from day to night, layered dresses, basics and classics alike and their signature gowns lightly touching the floor. So then I thought to myself it wouldn't be all that bad - there are some great pieces here that are worth investing in or worth looking at in a fashion show. I was pretty much deadpan wrong that night.
There were definitely more misses than hits in this collection. BCBG is famed for bodycon dresses, shirts and skirts or then it does the complete opposite and goes for loose, flowy, goddess-like dresses. Never something that was a sort of compromise in the middle. Perhaps it really was quintessentially BCBG but for some reason - there was something missing the pieces shown that night and this time; maybe it was just due to the
poor styling
on their part.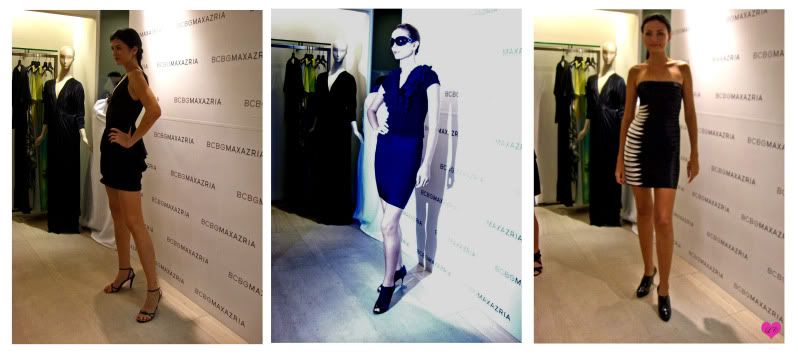 Here are some of the pieces that I thought were alright. You can't really go wrong with black and these are some of the key elements BCBG uses over and over again in each new collection: an LBD, some bodycon skirt and a bodycon dress à la Hervé Leger.
I just don't get the use of sunglasses indoors... and at night! I know it's a showcase of BCBG fashion but really, must we throw in everything possible?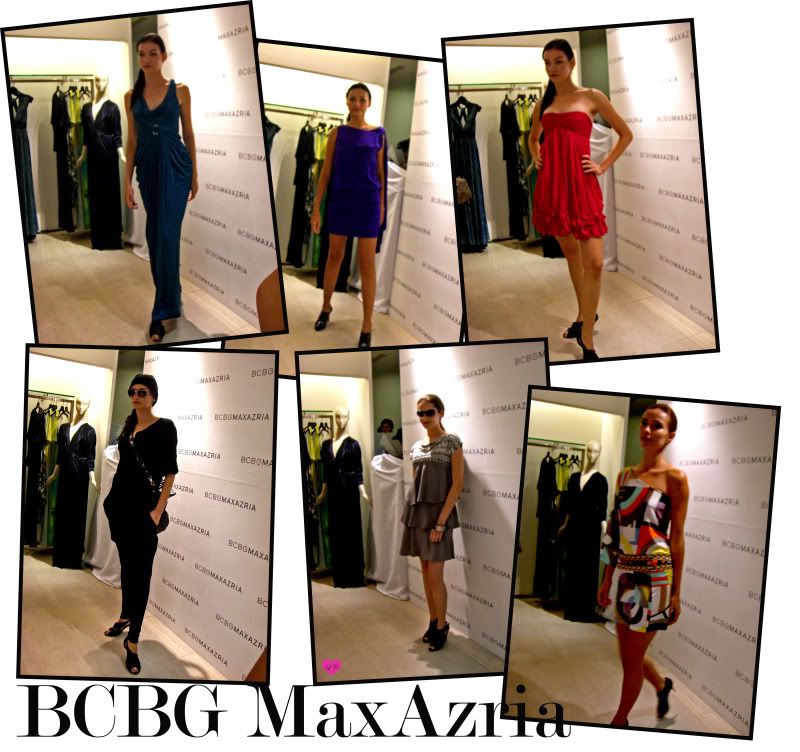 Then some of the items I didn't really think worthy of any notice - but still popped up anyway. What happened to simple draping? To long, grecian goddess silhouettes? What happened to sleek separates and flirty cocktail dresses?
It seemed just like a
mish-mash of bad styling
. Who wears a beanie these days? Or since when did BCBG look grungy? Why does a nice, pink and flirty cocktail dress remind me more of drapes than an actual garment? I have a million and one questions pertaining to the styling of that night because when I come to think about it - the whole collection could have been improved 150% if things were just re-ordered and re-thought. In other words, our friend '
coherence
' was absent that night.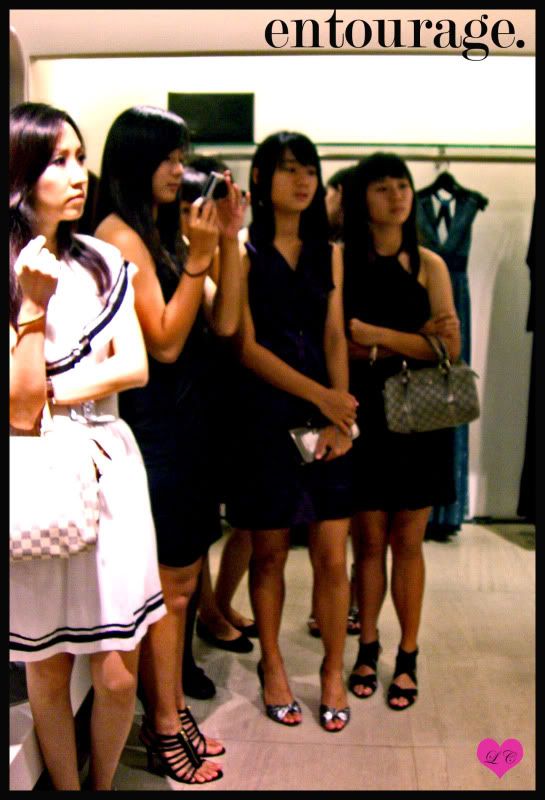 I just had to post this photo up of a woman (not the one on the foremost left) and her entourage of daughters. There were four of them all dressed in matching hues and cuts of dresses with similar haircuts and small Gucci bags. Family doesn't get any more united than that.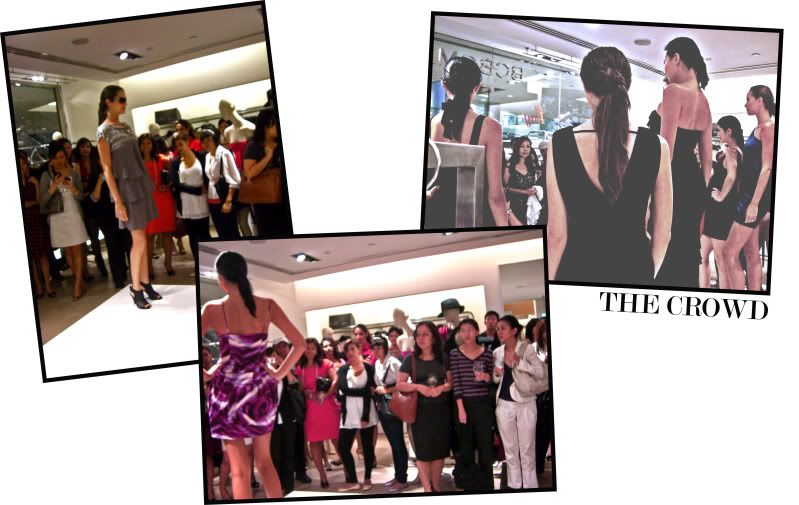 So it was a pretty small and somewhat private affair. There were good canapés (although too few to go around) and a great atmosphere. Everyone seemed to somewhat enjoy themselves and I'm sure BCBG and Harper's Bazaar snagged a few more loyal customers along the way but in my opinion - for a brand such as BCBG; styling is everything.