I finally got round to watching 'The September Issue' today. I know it's late, we're in October, yes, yes. But I do still have the issue sitting all fashionable and trendy in my magazine rack.
So I must admit, that I
love
Anna Wintour a little more now. Not only is she the editor-in-chief of one of the world's go-to fashion magazine, she's also much more than that. Having such an insight to the cut-throat world of fashion and dishing out magazines every month must be tough stuff and Anna seems dead right for the job:
decisive, fashion-forward and a
visionary
.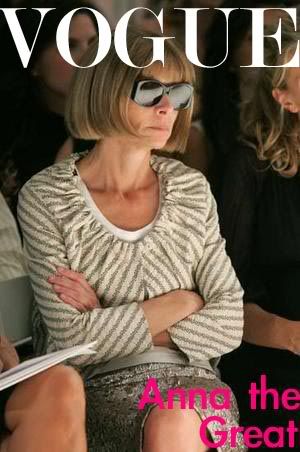 Even through her cold, inscrutable stares; there's something more that she possesses and she is definitely not the woman most people portray her to be. Anna does what a girl gotta do, she creates VOGUE for heaven's sake! That in itself seems enough of an excuse to be a little cranky, a little demanding and downright picky. But really, it seems like she's not as cold and harsh and fearsome as some people make her out to be, although I do agree that she's definitely someone you wouldn't want to mess with.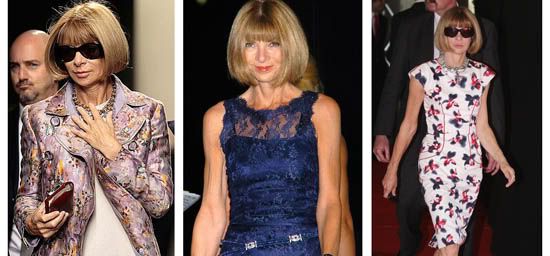 While in the movie, I was thinking to myself that in reality; Anna has a
very distinct style
that she sticks to day in and out. Unlike her other international Vogue counterparts
(i.e.: Carine Roitfeld, Anna Dello Russo, etc.
) her sense of style is a lot more conventional (yet still fashionable) and more '
proper
'. She definitely has a solid foundation of who she is as the matriarch of the fashion world.
I noticed that she usually wears knee-length, printed dresses with lots of colour, are fitted at the top and a little flared or A-line at the bottom. These dresses either have a little sleeve or are cropped like a tank top (second and third picture). To top it off, when Anna is out and about, she always has a chic, statement coat in her signature fur or some other printed material. Of course, the sunglasses, bob, heels and usually a simple bling-y necklace complete her look.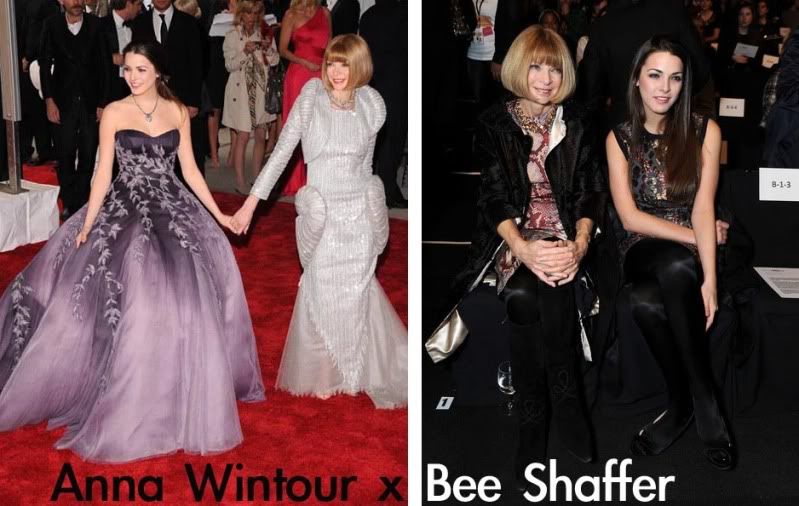 On top of it all, Anna's also a mother. Bee Shaffer is really beautiful and to have a mother like Anna Wintour, gosh! your wardrobe must be the absolute envy of those around you. Bee's currently studying to be a lawyer and she's seen out and about partying with the elite of New York City's prime society if not by her mother's side at various fashionable events.
I just had to mention her because Bee really is something to reckon with - perhaps even a role model in the future?
Anyway,
respect
to Anna Wintour who has guided us through our fashionable years.