It seems like most of the people I intend to consider some figure of fashion to be inspired from are Vogue employees better known as the "Vogue Soldiers". Being one of the best high fashion magazines known for its editorial, fashion forward spreads along with great journalistic pieces; it is definitely a staple for any fashionista.
This time at least, I lay testament to an Asian (or at least half of one),
Melanie Huynh
a Vietnamese-French Voguette working at Paris Vogue.
Mélanie works as an
assistant stylist
at Paris Vogue under the tutelage of the famed
Carine Roitfeld
(editor-in-chief). It seems like a requirement not only to be fashionable but beautiful at the same time! Note that on the picture above, Mélanie is actually
pregnant
. She's concealed her baby bump underneath all that fashionableness and still has those signature lithe legs. It also doesn't hurt that her Eurasian features means having a great bone structure too!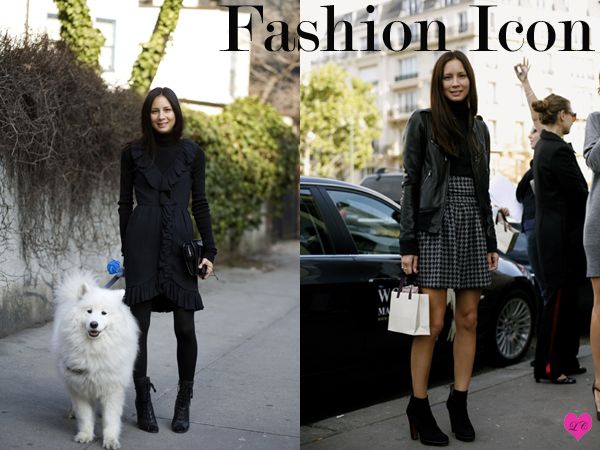 When it comes to her fashion style, it's evident that the likes of Carine Roitfeld and Emmanuelle Alt has rubbed off on her. However, Mélanie never loses that signature style which is quintessentially hers. Basics and monochromes make a majority of her wardrobe and she never forgets to accentuate those legs she's known for. The mix of different textures, tones and basics/statements seem to be her style rules - there's always some great detailing on her outfits that make it fabulous.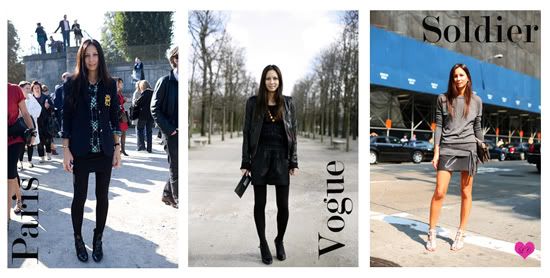 I love how she can always manage to be
effortlessly chic
! It takes a great eye to be able to pull it off without looking too 'done' and Mélanie has definitely mastered that.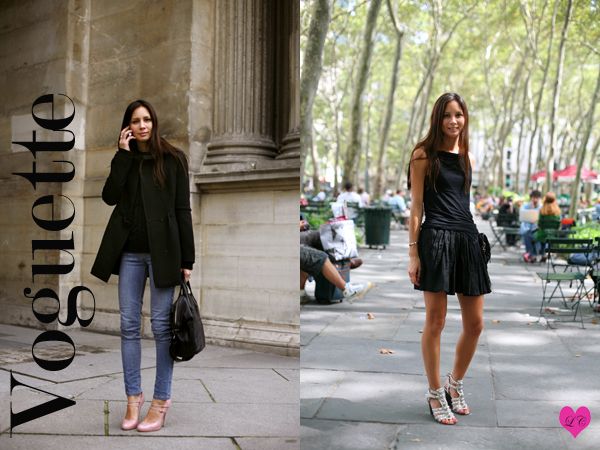 Some of my favorite looks from her. I think she looks great in a jean and a well cut jacket. Black has never looked that good and it's also a
requirement
of Voguettes (specially those in Paris) to constantly be in heels!
Steal her look:
- Monochromes have to be abundant and your wardrobe staple
- Killer, statement heels are a must
- Basics with great eye-catching details are pieces you should look for (something you can wear daily but has that extra edge because of that great shoulder or ruffle, etc)
- Tailored yet edgy pieces are essential in Mélanie's wardrobe
- Remember to show off those
legs
!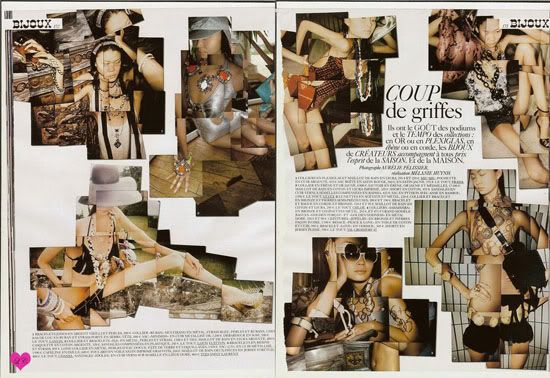 This is but one of Mélanie's works for Paris Vogue. She styles for many shoots and sometimes, the Vogue girls are the models of the shoots.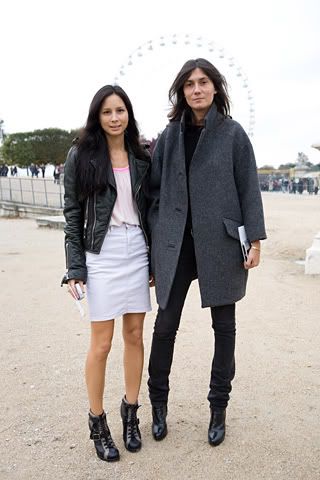 Mélanie Huynh and Emmanuelle Alt
I leave you with a picture of the Paris Vogue Soldiers, Huynh and Alt whom I have featured before. They will go to the grave still being über fashionable - if we could all look this good...